First off, have an earworm. This is "Fairytale of New York" by the Pogues. It's been in my head all morning, no matter how many other Christmas songs I listen to.
This is still one of my favorite Christmas songs, though it's been eclipsed a bit by "The Season's Upon Us" by Dropkick Murphys (which I linked to just the other day).
###
Yesterday I got a nice card from my boss, which had been signed by him and the chairs of our department. It was very nice, and I really appreciated it. (He also was passing out candy but I skipped it because I'm still avoiding refined sugar. Yay me!)
Our office doesn't really do much for the holidays. We have a half-day winter retreat, where we conduct work stuff and have a book exchange. In years past this has been a "white elephant" book exchange, but this year we were all asked to bring in copies of our favorite books. I brought in a copy of Good Omens by Terry Pratchett and Neil Gaiman, of course, since that's my favorite book of all time. And I ended up with a copy of Kafka on the Shore, by Haruki Murakami. I've never read anything by this author, but we were discussing him in our writers' group recently, and I'm really looking forward to reading this book.
What does your office do for the holidays, if anything?
When I was growing up, my family celebrated Christmas on Christmas Eve. I'm not sure why, but I remember being a kid and being baffled by the kids who were excited about opening their presents on Christmas Day. "Didn't you open them the night before?" I wanted to know. And they thought I was the weird one.
So, the entire family would gather: sometimes, both sets of grandparents, my Mom, my aunt and uncle, friends of the family, and so on. Over the years, of course, the family grew smaller and smaller. Grandparents pass away. Aunts and uncles and cousins all move to different states, and so on. Now, it's my parents, my sisters, my sisters' significant others, Jennifer, and my niece Erika. It's still fun, but it doesn't feel the same way as when I was a kid. I still miss my grandparents (though I had a nice visit with my grandpa in a dream the other night) and the overall boisterousness. Of course, I may be remembering it all wrong: it may be that those Christmases were awkward and painful, but I sincerely doubt it.
And, of course, after the family gathering we'd go to church. St. Jude's Episcopal Church in Cupertino (and it's good to know that they're still there). Over time, we started going to a Presbyterian church, which was pretty different. I don't remember any incense being swung around at the Presbyterian church, for example. I remember one Christmas, my cousin Rohan got a copy of a Klingon dictionary, and we spent the time before Christmas service trying to figure out how to say Merry Christmas in Klingon. I think the best we came up with was "Honorable Birth of the Great Captain", but I can't begin to pronounce that.
And that, I think, is pretty much it. I don't remember any other big traditions from when I was a kid, aside from the pageants and plays that every Christmas-celebrating kid takes part in.
Of course, I could be remembering wrong. I guess I should talk to my parents and my sisters about this.
###
Meanwhile, I did decide that I'm going to write The Neverending Symphony in 2020, the book that I whined about just a couple of days ago. This gives me six years to prepare for it, and who knows how long it will take to actually write the thing. But I'm really looking forward to it. I'm starting by doing some reading online: various articles, blogs, podcasts, and so on that I can find online. I've set up a blog to track my progress, and while I've made no pains to hide it from Google and whatnot, I'm not linking to it yet, simply because there isn't a whole lot of content there. I will eventually, though, just as a way to keep myself accountable. I expect plenty of support and encouragement from you people. Just letting you know.
'Tis the season for (eh, whatever) Holidailies
Feeling much better today. No asthma (yay Prednisone!). Weight loss proceeding normally (in spite of the Prednisone). Very few regrets at the moment (possibly because I've decided to write that silly book, The Neverending Symphony, in 2020 — more on that later). No major depression (also in spite of the Prednisone, which messes hard core with my emotional state).
So here are a few seasonal things.


Because people have asked for it, here is a picture of me with long hair and beard. It's not a very good picture, but it's the only one I have. It was taken — well, back in the 90s. Probably '92 or '93. After I graduated from college, at least. It's seasonal, because it was shortly after Thanksgiving. My parents, little sister, and I went to a dude ranch (called, appropriately enough, "Greenhorn"), and I went riding on a horse on this day. It started out raining that morning, but by the time we came back, it had started to snow. It was pretty chilly. And this jacket that I was wearing on that day? NO FREAKING POCKETS! I have pockets in my jacket now, though. I'd learned my lesson.
When I had long hair and a full beard, my dad used to tell me that I looked like a bomb-throwing terrorist. That was mostly because I wore black, too, and had a black trench coat.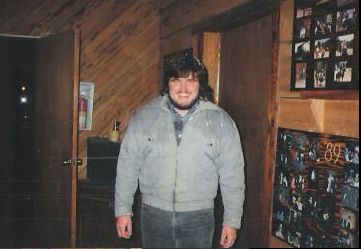 Here's a Christmas song you should listen to, with accompanying video. It's called "The Season's Upon Us" and it's by Dropkick Murphys, my favorite American Irish punk band (for proper Irish punk bands, I think the Pogues are my favorite).
Lovely song, isn't it? Now there's a family that loves each other.
I have no thoughts on the Elf on the Shelf (today's Holidailies prompt). It's supposed to be an old tradition, but I'd never heard of it until this century, and I suspect it was invented by Borders (or some similarly commercial entity) to sell those little dolls. I do think it's kind of a creepy thing to do, though, especially if your child believes that the elf really is a spy for Santa. But I suppose I'm over-cynical about it, just like I am over-cynical about most of the materialism that surrounds the holiday (heads up: I'm working on a blog post about what Christmas means to me on a spiritual level; expect some Episcotalk soon).
Anyway. So there's that.
Beer's still not fermenting, which saddens me. I don't know whether I ought to junk the wort at this point, or add more yeast. I don't want it to taste too yeasty. I have experts I could ask. I should ask them. I'm pretty sure I pitched the yeast too early, though.
Last night Jennifer made gingerbread men. I helped by attaching eyes and noses and occasionally taking trays of cookies out of the oven for her. I'm very useful.
That's all I got for today.
'Tis the season for (meandering) Holidailies
This is the album I'm currently listening to:
It's The Music of Cosmos, the soundtrack for Carl Sagan's masterful PBS series from the early 80s. It's got music by Vangelis, J. S. Bach, Leopold Stokowski, and so on. It's tremendously meditative, and back when I was in high school I listened to this album obsessively, over and over again, frequently while sitting in the dark or out walking at night.
Back then, inspired by Sagan, I was going to be a scientist of some sort. I wasn't quite sure what sort, though, because Cosmos covered just about everything there was to cover, from the evolution of humanity to the distant reaches of the Universe, and the idea of focusing on just one field felt a little confining. I decided, when it was time to go to college, that I would stick with the field I was good at, which was biology.
All this time I was writing, as well. I wrote some science fiction, some fantasy, and some stories about a detective named Fizziwinker (no, I have no idea where that name came from, what it means, or whether or not Fizziwinker had any other name besides Fizziwinker). But I was a big fan of Cosmos, and of science in general, and I had this idea round about my senior year of high school that I would write a book about science. Not just about science, you see, but Science (with a capital S). It was going to be all about the history and philosophy of science, and more: an exploration not just of those topics, but also of what it means to be human, and our place in the Universe. It was going to be called The Neverending Symphony, which I thought at the time was a grand title (it is now the title of a series of video games, I believe).
In college, I put away this idea, figuring (a) I was too busy studying biology and then philosophy to get anything like this written, or (b) I was too busy playing Dungeons and Dragons to get anything like this written. But in the 90s, after I graduated college, I resurrected the idea. Briefly. I couldn't be a scientist — as a guy who graduated from college with a Philosophy degree and a GPA just below 3.0, that road seemed closed to me. But I could still write about science, and I could still inject that book about science with all the philosophy I had just learned. I could still write my Neverending Symphony.
But I didn't. In fact, I never really got anywhere with that project beyond putting together a mix tape of music that sort of put me in the same mood as the Cosmos soundtrack. I also had no idea how to go about writing such a grand project.
There's still a part of me, though, that thinks that perhaps I could pull this off. After all, if linguist/funny writer Bill Bryson could write A Short History of Nearly Everything, then perhaps I can write The Neverending Symphony. It would take a LOT of research, basically a second liberal arts education, in the arts, humanities, and sciences, to make it happen.
How would I even start? I have no idea.
Should I even try?
It was easy when I was a kid. I'd go through the toy sections of my mom's Sears or J. C. Penney catalogs and circle the items I wanted. New Micronauts! New firetrucks! New Legos! And so on. I'd get all excited and eagerly await Christmas Eve when I could open my presents and see the wonders. I'd get some of the toys I'd circled, which was cool, and some books, which was also cool, and some socks and underwear (long story), and some sweaters. Once, my grandpa gave me a gift certificate to Books, Inc. (I don't know if that chain still exists or not, and I'm too lazy right now to Google it). That was back before gift certificates were really a Thing, and I loved it.
Now that I'm a grown up, though, it's a lot harder. I have pretty much all the toys I want: my smartphone, my Android tablet, my Kindle. My car, which is twelve years old but still runs and which I know very well (I tend to run my cars into the ground). My computer. I could use a new laptop, but that's not urgent. Oh, and my jellyfish desktop mood lamp thing has died, and I don't think ThinkGeek sells them anymore. Oh, and I saw a couple of Pacific Rim toys that I think would look neat on my desk at work, but that's about it.
Mostly I want books. And mostly reference books, too, though there are a few novels I've resisted buying myself because Christmas and my birthday are coming up. And my Amazon wishlist is public, in case you feel like looking it up.
So I'm going to go with some classics that I'd really like to see this year. I may come across as clichéd and a bit sappy, but here goes.


An end to slavery. Otherwise known as human trafficking. Although I can't think of a single country on Earth where slavery is legal, there are still plenty of people in captivity; according to World Vision, there are something like 115 million children in the world who are kept in slave conditions. This is unacceptable. There are plenty of charities that work to help victims of human trafficking throughout the world. Find one and donate to it.


Respect for the planet. I'm pretty sure that Donald Trump was trolling when he said on Twitter that the concept of global warming was invented by the Chinese to cripple American manufacturing; I mean, no one could be that deluded, right? But global warming is happening. There are hundreds, if not thousands, of studies which confirm that not only is it real, it's largely human-driven, compared to the tens of studies which say it is not. Yes, there was a major cold spell throughout the country this December, but that was driven by changes in the jet stream, which are driven by global warming. All I'm asking for is a little respect for this planet. We don't have any others to go to. Again, there are plenty of legitimate environmental charities out there that need help.


An end to homelessness and hunger. I work in downtown Sacramento, and I see plenty of homeless people, some of them veterans, every day. I mean, come on, we're the richest country on Earth, and we have this problem? Unacceptable. Find a local food bank or homeless shelter and donate or volunteer. These people need all kinds of assistance, from food and shelter to basic human companionship. I'm appalled that there are political forces in our country that are determined to cut back on government aid to these people. It seems counter-productive.


And, of course, the granddaddy Christmas wish that everyone asks for, world peace. I can't think of any charities that are working specifically on this problem, but it seems to me that the root causes of conflict in the world are lack of resources, and people finding more and more ways to be generally crappy at each other. Find and contribute to charities and groups that are actively working to end human suffering throughout the world, such as Doctors without Borders, or the Red Cross. They do good work.


But really, these wishes aren't really Christmas-specific. They're things I'd like to see year-round. Christmas can bring out the best in people, but I'd like to see that happen every day.
So, then… I don't know. What do you want for Christmas?
'Tis the season for (political) Holidailies
I've just put a new story up online: "Night of the Frozen Elf."
This one has actually been online for awhile over at Tales of the Zombie War, but I figured it was time to release the (slightly) revised version.
Enjoy! But watch out for language and occasional scenes of violence.
As both of my regular readers probably know at this point, I have asthma, and I have it fairly bad. Not life-threateningly bad, and I don't go to the emergency room on a regular basis (it's been about three years since that's been necessary), but I do get a nasty flareup every couple of months or so. Usually what triggers it is a minor cold or other bronchial infection. I seem to be prone to those. I've written about my asthma (and how it affects my political opinions) before, so I won't go into detail here.
Anyway. Today I started taking the Prednisone again. Prednisone is an annoying medication. It works well and usually clears up a flareup in a few days, but I always hesitate to take it because of the side effects. For one thing, it really impacts my mood, and not in a good way. When Jennifer had to take Prednisone, it had euphoric side effects and she was full of energy. I know other people who are affected in this way. But no, not for me. Instead, Prednisone makes me cranky and irritable and depressed. My mood plummets, and I'm just not good company for the duration of the time that I'm taking it.
But the most annoying side effect of the Prednisone is that it makes me hungry. Or, rather, it interferes with that mechanism that tells me when I'm hungry and when I'm full, so that it reports to me that I'm never full. This is going to interfere with my weight loss efforts because I won't be able to tell when I'm actually hungry or not.
So I'm going to attempt go go by visual cues this time. Instead of relying on my body to tell me when I'm hungry and when I'm not, I'm going to bear in mind that the human stomach is approximately the size of a clenched fist, and eat that much at my meals. And drinking water. Drinking lots of water. This will hopefully take the edge off the hunger. And perhaps bringing veggies to work with me. If I can't control the amount I take in, at least I can control exactly what foods I take in. I hope.
Got ideas for how to deal with this? Anyone? Bueller? Bueller?
'Tis the season for (wheezy) Holidailies
I started my second Story of the Week project in July, then lost the momentum in September. Then I said I'd restart in December. Now I'm saying that I'm going to restart my Story of the Week project in January, with the first story coming out on Sunday, January 5. How's that for a great way to start the new year?
Remember, if you're interested in receiving each story as they come out, you can sign up here. A Yahoo membership is apparently required these days. Sorry about that.
This is not a Holidailies entry.
There's a trending topic on Twitter right now, #FiveWordTechHorrors, which even I, a lowly PHP developer, find mighty funny. I contributed a few Tweets to the trend myself, each one based on something that really happened to me.
For example:
You're the Unix guy now. #FiveWordTechHorrors #fb




— Richard S. Crawford (@underpope) December 11, 2013
This happened to me in my early days at my current job. I was originally hired as a temporary employee to take over for someone who was out on extended leave. While I was being shown around the facilities by one of the two IT guys, I was shown our two in-house web servers which were, at the time, running Solaris something-or-other. I asked, "So who's the Unix guy who keeps these servers up and running?" The IT guy replied, "You are." This frightened me at the time because my experience of Unix was running a desktop installation of Red Hat, back when Red Hat was free for non-commercial users (now people use Fedora, I think), which was very different from Solaris. Over the years I've gotten quite comfortable running a Unix server, but back then the notion that I, a new employee whose experience with servers was pretty much nil, was now in charge of two of them was somewhat horrifying.
Also:
We fired the QA team. #FiveWordTechHorrors




— Richard S. Crawford (@underpope) December 11, 2013
My first (and only) private-sector web development job was for a tiny company called [REDACTED] (this company no longer exists). It was a risk, taking up the employment offer, but I figured what the heck. We started out pretty strong, but as the months wore on, things got a little tight. Then the layoffs began. The first department to get laid off was the Business Development department, which baffled me personally; I mean, if your problem is that you're not getting a lot of new business, why lay off the department which is responsible for getting that new business? But whatever.
The true death knell, though, was when the entire QA department was laid off. Not outsourced. The duties were not reassigned to the development team. No, QA was just dissolved as a practice. This, again, baffled me. But, whatever. At that point, I figured it was just a matter of time until I was laid off myself and the company went away entirely.
Cute story: I was at one point in my employment for [REDACTED] responsible for installing a product called Phorum, a web-based forum tool built in PHP. Because of database issues, every single SQL call in the product had to be rewritten. Shortly before I was laid off, the tech lead ended up reassigning the task to our local Perl developer, saying, "We need you to fix the mess that Richard made."
Hah. I guess I showed him.
Another one:
We are a Microsoft shop. #FiveWordTechHorrors




— Richard S. Crawford (@underpope) December 11, 2013
I actually don't really have anything against Microsoft. I haven't used Windows in years (aside from running it in a virtual machine on my desktop once every three months or so). I find the Windows operating system inflexible, buggy, and insecure, not to mention expensive, but this is not a moral judgment. I use Linux now, and have never looked back; and while Linux as a desktop OS certainly has its share of issues, it's still free and I still find it much more flexible than Windows.
At one point in my current job, I decided I was going to lobby for a Linx-based desktop computer. It made sense to me, because I was responsible for maintaining the Unix servers we had (see above), and I knew, because I had a Linux desktop at home, that it was much easier to maintain a Unix server from another Unix computer. It had gotten to the point where I was bringing in my own Linux-based laptop to the office to do my work on. While I was working with IT to get a Linux desktop, I was told, "We are a Microsoft shop", which, to me, usually indicates that the entire computing infrastructure, from desktops to servers, were Windows computers. This was, of course, not the case in this job. My boss was behind me on this issue, but IT certainly was not.
I did finally get my Linux desktop, though.
I've contributed a couple of other tweets to this topic, but I told myself I was going to limit myself to three in this blog entry, and so I have.
'Tis the season for (horrifying!) Holidailies.
I was tagged on Facebook by my friend Andrea Stewart, a wicked talented writer, to participate in this meme. Ten books that changed your life. I decided I'd do a blog entry instead of a Facebook post on this topic, because hey, content.
Like many other people who've participated in this meme, I find it's really hard to boil it down to just ten. But here goes.


The World of Pooh by A. A. Milne. All of the Winnie-the-Pooh books in one volume. It's the first book I remember reading on my own, and the book I most remember my Mom reading to me when I was a kid. I still have the copy I grew up with, though it's a little water damaged now.


The Lathe of Heaven by Ursula K. LeGuin. This mind-bender of a book really made me think about the fluid nature of reality and the role that dreams play in our lives.


The Sword of Shannara by Terry Brooks. I read this book for the first time when I was in sixth grade. While the sequels didn't really speak to me, this book really made me think about writing. I think that's partially because my sixth grade English teacher, Mr. Walsh, saw me reading it and said, "I bet you could write something just like that." I haven't tried my hand at epic fantasy outside of a Dungeons and Dragons game, but this was the book that really sparked my interest.


Good Omens by Neil Gaiman and Terry Pratchett. I had never really given much thought to comedic fantasy before in my life until I read this book. I'd go so far as to call this one my very favorite book of all time. I re-read it every year or so, or whenever I'm going through a bout of depression, because the humor in it always makes me laugh.


Greek Myths by someone whose last name is Caldicott, I think. I can't find this book anywhere online, but I know it existed. This book introduced me to Greek mythology, and to the notion of myths and legends in general. I still maintain a fascination for mythology and folklore, although I don't read up as heavily as I used to.


The Best of H. P. Lovecraft: Bloodcurdling Tales of Horror and the Macabre by H. P. Lovecraft. This is the first collection of Lovecraft stories that I ever read, and his stories broke my little high junior brain. But they also inspired me to write horror, which I did a lot of in high school.


The Origin of Species by Charles Darwin. I read this during my freshman year in college for a "Philosophy and the Biological Sciences" class, and it really changed my life. Up until then I'd been really struggling with my chemistry and math courses (biology courses were a snap), and thus my ambition of becoming a doctor. But then I took this class, and read this book, and realized that the history and philosophy of science were absolutely fascinating topics that I could build a college major — if not necessarily a career — out of. Side note: I knew many people in college who read this book and became atheists. I read it and found that it deepened my faith. Weird, huh?


The Stand by Stephen King. My introduction of post-apocalyptic fiction, and my introduction to Stephen King. Though I thought at the time — and still do think — that King cheated at the end of this novel, it made me think more about the boundaries of horror fiction and what I could possibly do myself. Funny story: I have a distinct memory of being forbidden to read Stephen King until I was sixteen years old, because my parents knew what my imagination was like and what I was likely to inflict on my own brain. My parents deny this, but I remember it.


Fred, Again by me. A controversial inclusion, I admit, because I wrote this one myself and it's not available to anyone. I wrote it for National Novel Writing Month in 2005, and the exercise of writing this one opened my eyes to the different kinds of writing I could do. Up until then I'd only written straight horror and science fiction and fantasy. It had never occurred to me that I could include comedic elements and still write something of quality. So it's totally fair to say that this one changed my life, or at least my writing path.


Return of the Kings by Jennifer Crawford et. al. Perhaps another controversial one, because this one is less than a year old and not widely printed, but of all the ones listed here, this is perhaps the most life changing for me because it really made me aware of how much Jennifer loves me, and how many good friends I have, regardless of whether they participated in the making of this book or not (a couple of my best friends were not involved, but I don't love them any less). I've had some dark moments since I got this book on my 45th birthday, but they've been lightened because I know now, for sure, that there are people I can go to when I need to.


And now I tag YOU! What are ten books that have changed your life?