I'm feeling generous now, so I'm doing a giveaway of "The Winds of Patwin County"!
First, I'm offering a free copy of the ebook to anyone who signs up for my "Story of the Week" mailing list. You can sign up here for the list. You will receive the ebook immediately upon signing up.
And second, I'm offering a free trade paperback copy of this novella to the first five people who leave a review (either positive or negative) on either GoodReads or Amazon.
That's all. I really hope you like my story and will spread the word far and wide about it.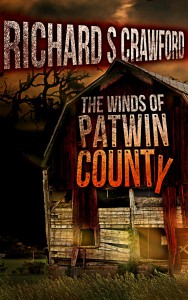 Time was, Cthulhu, the monstrous entity pictured to the left, was the most frightening thing imaginable. Not only was he a giant creature at least a mile in height, who lay dead yet somehow still dreaming in his sunken city of R'yleh, somewhere in the Atlantic… Not only could his dreams affect people in the waking world and control cults and sects throughout millennia… Not only could he rise up at any time and scour the Earth and lay it to waste… No, he's just a harbinger of even worse things to come! He's a priest of the old gods, entities that make Cthulhu himself look like a child's plaything.
Yes, Cthulhu was, at one time, the most frightening thing imaginable for certain groups of people.
On Sunday at WesterCon I attended a panel entitled "Cosmic Horror in the Mainstream Media". It was an interesting panel which, as is pretty much always the case when the term "cosmic horror" comes up, focused primarily H. P. Lovecraft and his influence not just on the horror genre but on culture at large. There was some debate about what the term "cosmic horror" means, and the panel agreed that it had to do with giant monsters, sanity-blasting, ancient magics, hidden knowledge, and so on.
I disagree.
To me, "cosmic horror" means a genre of horror entertainment which emphasizes the fact that nothing benevolent exists out there. It's about nihilism, about the nothingness in the universe that doesn't care a single whit about human beings. Sure, Cthulhu might incite a few cultists with his dead/not-dead dream state, but, really, Cthulhu probably doesn't give a damn about human beings at all, aside from how tasty we might be.
There's more to it than that, of course. Cosmic horror, to me, also implies "deepness": Lovecraft's horrors (and Lovecraft is still, for all his flaws, the undisputed master of cosmic horror) exist in deep space, in deep time, and in deep consciousness. It's the intentional seeking out of these entities and cosmic nothingness and universal indifference that drives the poor Lovecraftian characters mad. What happens when you see Hastur and Azathoth palling around with each other at the chaotic miasma which is at the center of the cosmos? You lose all your sanity, that's what.
But I think this sort of horror goes beyond just the Lovecraftian. While one might be hard-pressed to find examples in popular, mainstream culture, it's definitely out there. I offered up AMC's The Walking Dead as an example of this sort of nihilistic horror; and while even I have to admit this is a bit of a stretch, the cosmic nothingness, the idea that nothing benevolent exists, is still part of that show's milieu.
This cosmic nihilism, I think, has always been with us. Some of the Greek philosophers expounded on it, but I think the ball really got rolling with Nietzsche in the 19th century. It began to pick up speed during the First World War, picked up some more momentum with the Second, and, during the Cold War, it ran rampant all over everything. I grew up in the 80s, and I remember the existential horror of knowing that Reagan or Khruschev could at any moment decide that they'd had enough and would press that red button.
So what do you do when you're faced with this kind of horror? You can embrace it and write more Lovecraftian-style horror, or even apply some of that nihilism to your own horror or science fiction (Alien is cosmic horror whether you like it or not). You can also ignore it.
But you can also "cuteify" it. Indeed, a whole industry has grown up around making plush Cthulhu toys, silly songs about the Mythos, and so on. This is a
way of coping with Cthulhu and the empty, uncaring cosmos that he represents.
I personally have nothing against a cute Cthulhu. Heck, we have a plush Cthluhu that we put atop our Christmas tree every year. Plush Cthulhu is fun, goofy, and a neat way of coming to terms with the nihilism existential horror that is our daily existence.
I do know, though, that the cuteification of Cthulhu causes some problems for some people. That's fine and understandable. They don't like their cosmic, nihilistic, existential horror messed with.
So, the takeaway here is that cuteifying a horror is one way of coping with it. In my own fiction, I often take a comedic approach to Hastur, Cthulhu, Azathoth, and others. Does this mean that I'm also participating in the cuteification of Cthulhu?
I'll leave the answer to that as an exercise for the reader.
A couple of things:


Published my first post on The Penguin Scientific, my science blog: "On Penguin Teeth", which I wrote in honor of World Penguin Day, April 25.


I submitted five manuscripts today. So that part of my writing plan has been achieved for now. Next up: World domination.


I'm also wheezing a lot, and coughing up green goo. This usually means that I have some sort of infection brewing in my lungs. I've been coughing and wheezing since last Friday, so this is likely. I started the Prednisone last night, and if this doesn't clear up soon, I suppose it will be time to contact my pulmonologist.
How are you?
So y'all may be wondering how I'm doing with my writing goals and my semi-life-reboot. Well, I don't mind telling you that I'm having some trouble meeting my goals. Just after my reboot post, I slid into a depressive cycle, as people with Bipolar Type 2 are wont to do, and things just kind of… stopped. For a month or so. About three weeks ago, I figured I'd had enough of that, and finally took myself to see my psychiatrist, and she upped the dosage of one of my medications. I'm seeing results of that now, so hopefully I can get back on track.
So let's take a look at these two sets of goals.
Writing Goals:


"Death Pact" to write a short story each month. Well, if I were on track, I'd have four stories completed by now. Instead, I have… none. I have, however, made significant progress on "Flash Drive", a story I wrote last year in four parts. I also finished the first draft of a new short story called "Mechanism", a fantasy story with some sci-fi elements. Once I get "Flash Drive" finished and mailed out to my mailing list, I'll start revising "Mechanism". I also will be revising "Teh K1ng in Y3110w", a Lovecraftian pastiche that I wrote a few years ago. And "Burying Uncle Albert" needs some love as well.


Publish paperback version of The Winds of Patwin County. No progress on this one. I haven't even looked into what it would take. I have several friends who've published paperback versions of their novels, so I have plenty of resources. I just haven't felt up to it.


Publish Tales from Patwin County. This is a collection of stories I've written that take place in the same county. No progress here.


Finish first draft of Padma. Or, at least, the first draft of part one. This one isn't going to happen by the deadline I've set for myself, but at least I've made pretty significant progress in outlining it.


Write and publish some non-fiction. No progress here.


Sell more fiction. I submitted one story, and got a rejection within twelve hours. I plan on submitting more, of course.


Life Reboot
I added a lot of "Be's" to my life a couple of months ago, and some of them I have managed to pull off and some of them I have not. That post basically outlined what might be called my "Personal Mission Statement", though I sort of loathe that particular phrase.
I decided the other day, though, that if I was to have a "Personal Mission Statement" of any type, I wanted to be able to express it in one Tweet: that is to say, in less than 140 characters. So here it is:
Be kind. Be curious.
And that's it. The rest is gloss. I mean, I intend to be healthy, creative, joyful, and so on, but these are hard to maintain when I'm in a depressive spiral. Kindness and curiosity are also hard to maintain, but they're two traits that I can make use of to get out of my own head when I'm depressed, and that's important.
Anyway. That's my second Accountability Post. I'll post more as the year goes on.
In response to this post on my wife's blog, I want it known, for the record, that I actually liked those chocolate/peanut butter brownies. They were yummy, gooey, and delicious. I was sad when we threw them away but I knew that, for the sake of health, they had to go.
I just thought you should know that there were two sides to the story.
I was inspired by Wil Wheaton's post, "Seven Things I Did to Reboot My Life". Not that my life needs rebooting, really. I'm married to my best friend, someone I really love and who makes me happy. I have a steady job which I enjoy and which challenges me. I have a home. My depression is under control for the most part. And so on. My life is mostly working, fully operational. So why on Earth would I need to consider rebooting anything?
Well, why not? There are some things I'd like to do more of. There are some things I'd like to do less of. Things I'd like to do better. Things I'd like to stop doing altogether.
So I've made a list of qualities, values, or attributes — adjectives — that I'd like to use to describe myself. Things I would like to be. They are:


Be Curious. Explore the world around me, examine things more closely, be curious in public, and learn more. Keep learning new things. Read more (and Facebook and Twitter don't count). Watch more documentaries.


Be Healthy. Natch. I need to exercise more, and eat healthier. Who doesn't? But if we're to go to New Zealand (tentatively planned for 2020), I need to physically prepare for  a lot of walking.


Be Creative. I like to write, and I like to think that I'm pretty good at it. I'd like to improve, of course. I'd also like to start exploring creativity in other areas. Not sure what though. Poetry maybe? I don't think I have the patience to paint or sculpt, that's for sure.


Be Kind. A lot of people in the world have it rough. Everyone's fighting some sort of battle. Why make it worse? Why not make it better for them? If a telemarketer calls, remember that they're just doing their job, which they probably hate, so be kind to them, even as you explain that you're not interested in their product and that you're hanging up now.


Be Humble. By which I mean remember that I'm certainly not the best or smartest or whatever person in the room. Being humble opens me up to listening to other people and learning their stories, because everyone has one.


Be Playful. Play games. Play with toys, such as the Raspberry Pi mini-computer my wife gave me for Christmas. Just have fun with life. No one gets out of it alive.


Be Joyful. The universe is amazing and full of wonder. Yes, there is plenty of suffering and pain. Take joy in helping to relieve them.


Many of these values are based in and informed by my faith (remember, I'm an Episcopalian). The overall theme, I think, is to simply appreciate myself and the world I'm in and the people who inhabit it. The motto of the Episcopal Church is, "Love God. Love your Neighbor. Change the World."
I recognize, of course, that I'll have problems with some of these from time to time. Sometimes I'll slip back into depression, sometimes I just won't have the energy to learn something new, sometimes my temper will get in the way of being kind to anyone. I will try to be okay with that, and when it happens, I will try to refocus.
Spring is almost here. It's warm outside, and we've got the windows open, which makes the cats happy. Birds are singing. Overall, things are pretty cool.
It was good dal, made with more or less fresh lentils, organic onions and sweet potatoes, and plenty of spices. We'd made it the other night for dinner, and the recipe made a large amount of it. We had it for dinner on Sunday night and lunch yesterday. And the menu plan we'd made for ourselves for the week called for us to us to have it for dinner tonight.
Tonight, though, we were pretty much finished with the dal, even though we still had something like six servings left. But a menu plan is a menu plan. And after a brief flirtation with the idea of going to IHOP — today being International Pancake Day, after all — we decided to have the dal anyway. And lemon muffins for dessert. We watched an old episode of Face Off while we ate, and wished for pancakes.
And that's the thing about being an adult. Sometimes, you have to pass on the pancakes so you can eat the healthy thing. Except that, as an adult, there aren't other adults telling you that it's good for you. You have to tell yourself.
I'm going to post one of these "Accountability Posts" from time to time, to, uh… keep myself accountable to the writing goals I set for myself earlier. So here's how I'm doing on each one:


Story per month. Well, I haven't written a story in February, and my January story, "Flash Drive", is still in progress. I submitted it to my writers' groups, and got some fantastic feedback, but there are serious flaws that need to be addressed. So, I plan on revising it heavily, and then sending it out to my mailing list.


Paperback version of "The Winds of Patwin County". Um. So. No progress here.


Publish Tales from Patwin County. I long ago selected some of the stories that I want to include in this collection, so that's done. I need to track down someone who can do the cover art. And revise and format the stories themselves.


Finish first draft of Padma. I've made substantial progress on the outline, but I'm finding this project intimidating. It involves so much that I just don't know: quantum cosmology, Hindu mythology, what medical school is like, and so on. I'm finding good resources online, but still… kind of overwhelming.


Write some nonfiction. Aside from my last two blog posts, I haven't written any. Not yet. I did set up my science blog, The Penguin Scientific, but I haven't posted anything there yet.


Submit more fiction. I haven't done so yet.


I suppose part of the reason for not making much progress on any of these goals is simply being tired. Plus, since I spend my entire day in front of a computer at work, I'm never necessarily motivated to get in front of my computer at home and do work. Far easier to sit on the sofa in the living room, eating dinner and watching old episodes of Face Off. That's as inspired as I get in the evenings.
So hopefully, doing these accountability posts from time to time will help me focus and do what needs to be done.
Here's your reward for bearing with me on this: the video to "Drink with the Living Dead" by Ghoultown. It's a creepy song, and not safe for work. Enjoy!
While listening to the February 17th episode of This Week in Science podcast, I learned that the whooping crane, Grus americana, which has been on the brink of extinction, was recently reintroduced to the wild in Louisiana, though their original habitat has changed. The birds are responding to this change, and thriving, by altering their appetite to include small reptiles and amphibians. Though their natural history isn't entirely understood, it's generally agreed that this is new behavior; it's behavior that emerged after their habitat changed.
Or consider our cat Rosemary (gone but still in our hearts). She was a normal cat with no particular strange behaviors, until we acquired some small stuffed dragons, which she began to pick up in her mouth and carry around our house. She wasn't nesting with them, because she didn't gather them up in one single place; rather, she deposited them in random locations, upstairs and down, and sometimes on the stairs themselves. So this I'm also considering an "emergent behavior", that is, an unexpected new behavior that emerges after a change in environment.
I suppose this isn't technically emergent behavior, though. The term, I believe, actually comes from complexity theory and refers to a system which exhibits traits and behaviors that cannot necessarily be explained in terms of the parts. A single neuron, for example, is not at all capable of the higher thought processes that a brain, composed of millions of neurons, is capable of. Similarly, an individual ant is not capable of doing very much, but organize thousands of them into a colony and you get some very complex behaviors indeed (Douglas Hofstader, in his book Gödel, Escher, Bach: An Eternal Golden Braid, even imagined that an ant colony that was capable of rational thought).
This post isn't meant to be scientific or a reflection of any philosophical notions, just some random thoughts that I've pondered throughout the years. The basic point is that emergent behaviors and properties are weird. When an organism's or individual's habitat or environment changes in a truly novel way, you can't necessarily predict what the response will be. Similarly, with complex systems, you can't necessarily predict what strange properties will show up.
That's all I got for now. Again, my next post will probably be about our cat Nutmeg, who, because she's kind of chubby, I've taken to calling "Miss Chumbly-Wumbly". Sure it makes no sense. But neither does this post.
The other day, I got to thinking about singularities, as one does. Not the so-called technological or sociological singularity of Ray Kurzweil et al (which I think is just kind of silly), but the singularities that lie at the heart of the Big Bang and black holes. Mind you, the two singularities are not the same — the universe is not a black hole, and black holes are not little Big Bangs — but the basic concept, as I understand it, is essentially the same. A singularity is a construct of mathematics and physics and represents a region where we the laws of physics and mathematics simply break down. We simply can't describe what happens at the heart of a singularity because our mathematics and our physics aren't capable of doing so. There's some philosophical debate as to whether the science has advanced sufficiently to a point where we can know what's happening or we'll never know because the mathematics will be forever beyond our ken. The point is, right we just don't know what happens in a singularity, and we don't even know if we ever will know.
So, it's been established (more or less) that there are some questions we may simply never have the answers to. What happens inside a black hole? We don't know. What happened in the first moment of the Big Bang? We don't know. Can we determine both the precise location and velocity of a sub-atomic particle? No we can't.
All this thinking about unanswerable questions made me dizzy while I was studying philosophy at UC Davis, and I loved it. And then I got to thinking about the limits of the human intellectual enterprise as a whole. Could it be that, in addition to questions we can't answer, are there questions we can't even ask?
Consider a housecat observing a human reading a book. To the human, reading a book means hallucinating vividly while staring at black marks on the remains of a dead, pulped-up tree. But what does it mean to the cat? Even the smartest of cats — such as our cat Rupert — wouldn't know what to make of this. In fact, I would go so far as to suggest that the cat  lacks the capacity to even ask what the human is doing. It doesn't occur to the cat to question it, because the cat doesn't understand the first thing about written communication, and the concept doesn't even exist in the cat's mind.
So what about the limits of human comprehension? Like the housecat, we're obviously limited in what we can comprehend and understand. Do these limits mean that we can't ask certain questions because we'll never know where to look?
I once asked this question of one of my philosophy professors at UC Davis. Dr. A– simply replied, "What would be the point? Get back to your paper on Descartes."
And, of course, I can't provide any examples of questions that can't be asked, because, by definition, if a question can be asked then it isn't non-askable.
Finally, if a question is non-askable, does that mean there are vast swaths of knowledge that we simply can't ever know? I didn't study much epistemology in college, so I never really came across this question.
So to me, this little bit of questioning suggests a sort of singularity of human thought. Just as we'll likely never know what happens inside the singularity of a black hole or what happened before the Big Bang, we may never know the limits of our own knowledge, simply because we can't ask the relevant questions.
That's all I got for now. My next blog post will be different, likely about our cat Rupert, the wicked smart cat, or Sherman, who attempts to escape our house every time the front door opens. But for now, this philosophical meandering is what you get.