Okay. Between jury duty (for a rather intense trial) and extra hours of work to make sure our website doesn't explode this month, I'm finding I just don't have time to write this month. So my Story of the Month project will resume in February instead of this month.
Sorry about that.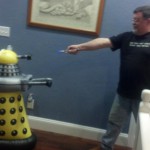 A Dalek in the kitchen!
First things first: There's a First Friday write-in at my house this Friday at 7:00 pm this Friday, January 3, 2014. Hope to see you there! If you want to come, send me an email or something and I'll tell you how to get here.
Anyway, today's my birthday, and I turn 46 years old. I'm quite all right with that. I freaked out a little bit about turning 40, as is traditional, and I suspect I will do so a bit when I turn 50, because I think you're supposed to. But 46? Meh.
It's also New Year's Eve. The picture above shows what Jennifer and I have done so far. We inflated the Dalek that my parents had given me for Christmas, and then it invaded the kitchen. Fortunately I had my sonic screwdriver ready, and successfully fought it off. Go us! Now it's up to the cats to deflate it with their claws. I'm sure that won't be difficult for them.
Typically, I don't really make New Year's resolutions. I used to make them when I was younger but I usually didn't keep them for very long. Then, in a bout of rebelliousness, I decided that instead of New Year's resolutions, I would make March 25 resolutions — the thought being that March 25 was just as arbitrary as January 1 for that sort of thing.
Nowadays I use my birthday and the end of the year to consider the areas of my life that I like to focus on, and consider where I'm at in those areas of focus. Those areas of focus are, summarized:
Health. Physically, I'm not very good at this, but with the mindful eating I've been practicing I've been getting better. Emotionally and mentally, though, I'm pretty happy with where I am, though there's definitely room for improvement.
Relationships. I'm still working on some basics, like returning phone calls in a timely manner. For some reason, I suck at that. But I have good relationships with my wife, my family and with my friends, both online and off-, and I'm looking for ways to make those relationships better and stronger.
Geekery. By which I basically mean learning and fun. Learning IS fun, of course, but in the "fun" column I also put gaming, reading, entertainment, and so on. It's all geekery because I'm a geek. This coming year, I do intend to do some more learning. A lot more.
Writing. Always. This year I plan to focus on it a bit more. Maybe start submitting short stories again.
And that's all. As I said, I don't really make resolutions. Instead, I just like to refocus on what's important to me.
'Tis nearly the end of Holidailies
Today's the sixth day of Christmas. Tradition demands that I give my wife six swans a-swimming. As interesting as the cats would find those, however, I think I'm going to pass. First of all, we have no place in our house or nearby for the swans to swim (California being in a drought, after all). Second, swans are messy. I don't want to clean up after them.
Anyway, first thing's first. There's a First Friday Write-in, the first of the new year, at my house at 7:00 p.m. on Friday, January 3, 2014. Hope to see you there.
In other news, tomorrow is my birthday. I turn 46 years old. I am surprisingly okay with that. As my friend Cheryl put it on Facebook, "Better to be smelling the daisies than looking at the roots, am I right?" Indeed she is.
NOTE: Even though most of this post was written on December 26, it's now the 27th as I finish and post it. Happy third day of Christmas!
Ingrid in a Santa hat
It's December 26th in this particular time zone as of this writing, which means it's Boxing Day, or the second day of Christmas. Tradition demands that I give Jennifer a pair of turtle doves, whatever those are, but I'm going to pass. I guess I'm just a lousy husband. Anyway, here's a picture of one of our cats, Ingrid, wearing a Santa hat. It's okay. She always looks this grumpy.
Aside from all the driving, the past two days have been pretty low-key. On Tuesday, Christmas Eve, Jennifer and I went down to my parents' house to hang out with the family. We all sat around and chatted, had Chinese food for dinner and various cookies and things for dessert, then opened stocking stuffers and presents. I had drawn my sister Leona's name in the gift draw (my parents draw names to see who we'll be giving a gift to, instead of giving everyone a gift; I really like this tradition, because it means I can put a lot more thought into a single gift instead of trying to find something for a bunch of different people), and I gave her a nice black sweater which she'd been wanting. Her husband Mike (who wasn't able to come to the festivities) had drawn my name, and I ended up with a copies of Wonderbook, an illustrated book on writing speculative fiction by Jeff Vandermeer that I'd really been wanting, and Existence by David Brin. My parents also gave me a three foot tall inflatable Dalek. They're Doctor Who nerds just like me, so they know what I like. 


Yesterday, Christmas Day, we went to Jennifer's sister's house to spend time with her family. It, too, was a pretty low-key affair. After breakfast we opened presents, and again I ended up with some pretty cool stuff: a book on ghosts and hauntings, a DVD of The Universe from the History Channel, and a subscription to Scientific American, which makes me happy in light of my plan to writing The Neverending Symphony in 2020. It was fun hanging out with various in-laws, nephews, and nieces, and the caroling in the evening was fun as well, but by the time the day ended, Jennifer and I were both wiped, and quite ready to go home.
And now I'm back at work while Jennifer's off shopping with her family (on the 26th, they hit the post-Christmas sales to stock up on cards, ornaments, and supplies for the next year). It's been a slow day, customer support-wise, so I was able to spend the day focusing on some projects that I've been working on.  There's hardly anyone else in the office, too, which has been nice. Not that I don't like my co-workers, of course, it's just that it's nice to be able to focus on existing projects rather than on customer support emergencies.
So at this point there's not much left to do except sit around and wait for my birthday. Once that's over, then it'll feel a little less like limbo around here, and a little more back to reality.
'Tis the season for (rambling) Holidailies
First of all, here, have some music:
This is "This Endris Night", as performed by Vox Musica, the women's voice choir to which Jennifer belongs. They always sound great.
One of the atheist billboards in Sacramento
Meanwhile, the Freedom From Religion Foundation has put up some billboards around the Sacramento area. I approve. Not because I am personally an atheist or agnostic, but because there are a lot of people out there who are, and they each deserve to know that they're not the only ones out there, and that they have a right to dignity and respect as well. I have read that some people believe that these billboards are somehow discriminatory against Christians, but I find that idea ludicrous; Christians are NOT a persecuted minority in the United States of America, and anyone who tries to tell you that they are has bought into the Fox News victim mentality.
The shield of the Episcopal Church
Me, I'm happy to call myself an Episcopalian — though, I suppose, to some people, the Episcopal Church barely counts as a Christian denomination. I believe in God, in the Incarnation of God in the person of Jesus Christ, and in the Resurrection. I was baptized in the Episcopal Church, and confirmed there as well. All the basic stuff. I believe that God's commandments to human beings boil down to what Jesus called the two great commandments: Love God, and love each other. The rest, I think, is more or less fluff, and the more you get bogged down in the theology and strict Bible-ism, the more likely you are to let your own prejudices and hatreds interfere with the two great commandments.
Most importantly, I feel these two great commandments are essentially identical, if at least not very much alike. As Christ himself put it:
"'Love the Lord your God with all your heart and with all your soul and with all your mind.' This is the first and greatest commandment. And the second is like it: 'Love your neighbor as yourself.' All the Law and the Prophets hang on these two commandments."1
There you have it. In my mind, if you serve others you're essentially serving God, no matter what your religious inclinations are. In further verses (particularly in the Sermon on the Mount), Christ teaches that our neighbors are not just the people who live next to us, but all humankind, as well, even our enemies.
So. Christmas. It's upon us this very Wednesday. Right now we're still in the season of Advent, the time of expectation and waiting for Christmas itself. I wish I had some Deep Meaningful Insights to share with you about the season, but I don't. Just… as we finish running out the season, allow yourself to relax, be meditative, and so on. It's hard to break out of the rushing and materialism that marks Christmas in our culture these days, but it's important to do so.
Other than that, I got nothing.
In other news, I've revamped my blog. I'm not yet happy with the layout, navigation, appearance, or so on, but after using the same home-grown theme for years and years, I thought it was time for a change. Plus, the new layout is responsive, and looks good even on my cell phone. The wonders of living in the future!
'Tis the season for (random) Holidailies
Matthew 22:37-40, NIV [↩]
First off, have an earworm. This is "Fairytale of New York" by the Pogues. It's been in my head all morning, no matter how many other Christmas songs I listen to.
This is still one of my favorite Christmas songs, though it's been eclipsed a bit by "The Season's Upon Us" by Dropkick Murphys (which I linked to just the other day).
###
Yesterday I got a nice card from my boss, which had been signed by him and the chairs of our department. It was very nice, and I really appreciated it. (He also was passing out candy but I skipped it because I'm still avoiding refined sugar. Yay me!)
Our office doesn't really do much for the holidays. We have a half-day winter retreat, where we conduct work stuff and have a book exchange. In years past this has been a "white elephant" book exchange, but this year we were all asked to bring in copies of our favorite books. I brought in a copy of Good Omens by Terry Pratchett and Neil Gaiman, of course, since that's my favorite book of all time. And I ended up with a copy of Kafka on the Shore, by Haruki Murakami. I've never read anything by this author, but we were discussing him in our writers' group recently, and I'm really looking forward to reading this book.
What does your office do for the holidays, if anything?
When I was growing up, my family celebrated Christmas on Christmas Eve. I'm not sure why, but I remember being a kid and being baffled by the kids who were excited about opening their presents on Christmas Day. "Didn't you open them the night before?" I wanted to know. And they thought I was the weird one.
So, the entire family would gather: sometimes, both sets of grandparents, my Mom, my aunt and uncle, friends of the family, and so on. Over the years, of course, the family grew smaller and smaller. Grandparents pass away. Aunts and uncles and cousins all move to different states, and so on. Now, it's my parents, my sisters, my sisters' significant others, Jennifer, and my niece Erika. It's still fun, but it doesn't feel the same way as when I was a kid. I still miss my grandparents (though I had a nice visit with my grandpa in a dream the other night) and the overall boisterousness. Of course, I may be remembering it all wrong: it may be that those Christmases were awkward and painful, but I sincerely doubt it.
And, of course, after the family gathering we'd go to church. St. Jude's Episcopal Church in Cupertino (and it's good to know that they're still there). Over time, we started going to a Presbyterian church, which was pretty different. I don't remember any incense being swung around at the Presbyterian church, for example. I remember one Christmas, my cousin Rohan got a copy of a Klingon dictionary, and we spent the time before Christmas service trying to figure out how to say Merry Christmas in Klingon. I think the best we came up with was "Honorable Birth of the Great Captain", but I can't begin to pronounce that.
And that, I think, is pretty much it. I don't remember any other big traditions from when I was a kid, aside from the pageants and plays that every Christmas-celebrating kid takes part in.
Of course, I could be remembering wrong. I guess I should talk to my parents and my sisters about this.
###
Meanwhile, I did decide that I'm going to write The Neverending Symphony in 2020, the book that I whined about just a couple of days ago. This gives me six years to prepare for it, and who knows how long it will take to actually write the thing. But I'm really looking forward to it. I'm starting by doing some reading online: various articles, blogs, podcasts, and so on that I can find online. I've set up a blog to track my progress, and while I've made no pains to hide it from Google and whatnot, I'm not linking to it yet, simply because there isn't a whole lot of content there. I will eventually, though, just as a way to keep myself accountable. I expect plenty of support and encouragement from you people. Just letting you know.
'Tis the season for (eh, whatever) Holidailies
Feeling much better today. No asthma (yay Prednisone!). Weight loss proceeding normally (in spite of the Prednisone). Very few regrets at the moment (possibly because I've decided to write that silly book, The Neverending Symphony, in 2020 — more on that later). No major depression (also in spite of the Prednisone, which messes hard core with my emotional state).
So here are a few seasonal things.


Because people have asked for it, here is a picture of me with long hair and beard. It's not a very good picture, but it's the only one I have. It was taken — well, back in the 90s. Probably '92 or '93. After I graduated from college, at least. It's seasonal, because it was shortly after Thanksgiving. My parents, little sister, and I went to a dude ranch (called, appropriately enough, "Greenhorn"), and I went riding on a horse on this day. It started out raining that morning, but by the time we came back, it had started to snow. It was pretty chilly. And this jacket that I was wearing on that day? NO FREAKING POCKETS! I have pockets in my jacket now, though. I'd learned my lesson.
When I had long hair and a full beard, my dad used to tell me that I looked like a bomb-throwing terrorist. That was mostly because I wore black, too, and had a black trench coat.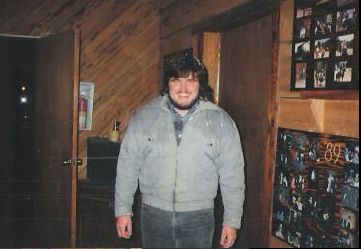 Here's a Christmas song you should listen to, with accompanying video. It's called "The Season's Upon Us" and it's by Dropkick Murphys, my favorite American Irish punk band (for proper Irish punk bands, I think the Pogues are my favorite).
Lovely song, isn't it? Now there's a family that loves each other.
I have no thoughts on the Elf on the Shelf (today's Holidailies prompt). It's supposed to be an old tradition, but I'd never heard of it until this century, and I suspect it was invented by Borders (or some similarly commercial entity) to sell those little dolls. I do think it's kind of a creepy thing to do, though, especially if your child believes that the elf really is a spy for Santa. But I suppose I'm over-cynical about it, just like I am over-cynical about most of the materialism that surrounds the holiday (heads up: I'm working on a blog post about what Christmas means to me on a spiritual level; expect some Episcotalk soon).
Anyway. So there's that.
Beer's still not fermenting, which saddens me. I don't know whether I ought to junk the wort at this point, or add more yeast. I don't want it to taste too yeasty. I have experts I could ask. I should ask them. I'm pretty sure I pitched the yeast too early, though.
Last night Jennifer made gingerbread men. I helped by attaching eyes and noses and occasionally taking trays of cookies out of the oven for her. I'm very useful.
That's all I got for today.
'Tis the season for (meandering) Holidailies
This is the album I'm currently listening to:
It's The Music of Cosmos, the soundtrack for Carl Sagan's masterful PBS series from the early 80s. It's got music by Vangelis, J. S. Bach, Leopold Stokowski, and so on. It's tremendously meditative, and back when I was in high school I listened to this album obsessively, over and over again, frequently while sitting in the dark or out walking at night.
Back then, inspired by Sagan, I was going to be a scientist of some sort. I wasn't quite sure what sort, though, because Cosmos covered just about everything there was to cover, from the evolution of humanity to the distant reaches of the Universe, and the idea of focusing on just one field felt a little confining. I decided, when it was time to go to college, that I would stick with the field I was good at, which was biology.
All this time I was writing, as well. I wrote some science fiction, some fantasy, and some stories about a detective named Fizziwinker (no, I have no idea where that name came from, what it means, or whether or not Fizziwinker had any other name besides Fizziwinker). But I was a big fan of Cosmos, and of science in general, and I had this idea round about my senior year of high school that I would write a book about science. Not just about science, you see, but Science (with a capital S). It was going to be all about the history and philosophy of science, and more: an exploration not just of those topics, but also of what it means to be human, and our place in the Universe. It was going to be called The Neverending Symphony, which I thought at the time was a grand title (it is now the title of a series of video games, I believe).
In college, I put away this idea, figuring (a) I was too busy studying biology and then philosophy to get anything like this written, or (b) I was too busy playing Dungeons and Dragons to get anything like this written. But in the 90s, after I graduated college, I resurrected the idea. Briefly. I couldn't be a scientist — as a guy who graduated from college with a Philosophy degree and a GPA just below 3.0, that road seemed closed to me. But I could still write about science, and I could still inject that book about science with all the philosophy I had just learned. I could still write my Neverending Symphony.
But I didn't. In fact, I never really got anywhere with that project beyond putting together a mix tape of music that sort of put me in the same mood as the Cosmos soundtrack. I also had no idea how to go about writing such a grand project.
There's still a part of me, though, that thinks that perhaps I could pull this off. After all, if linguist/funny writer Bill Bryson could write A Short History of Nearly Everything, then perhaps I can write The Neverending Symphony. It would take a LOT of research, basically a second liberal arts education, in the arts, humanities, and sciences, to make it happen.
How would I even start? I have no idea.
Should I even try?
It was easy when I was a kid. I'd go through the toy sections of my mom's Sears or J. C. Penney catalogs and circle the items I wanted. New Micronauts! New firetrucks! New Legos! And so on. I'd get all excited and eagerly await Christmas Eve when I could open my presents and see the wonders. I'd get some of the toys I'd circled, which was cool, and some books, which was also cool, and some socks and underwear (long story), and some sweaters. Once, my grandpa gave me a gift certificate to Books, Inc. (I don't know if that chain still exists or not, and I'm too lazy right now to Google it). That was back before gift certificates were really a Thing, and I loved it.
Now that I'm a grown up, though, it's a lot harder. I have pretty much all the toys I want: my smartphone, my Android tablet, my Kindle. My car, which is twelve years old but still runs and which I know very well (I tend to run my cars into the ground). My computer. I could use a new laptop, but that's not urgent. Oh, and my jellyfish desktop mood lamp thing has died, and I don't think ThinkGeek sells them anymore. Oh, and I saw a couple of Pacific Rim toys that I think would look neat on my desk at work, but that's about it.
Mostly I want books. And mostly reference books, too, though there are a few novels I've resisted buying myself because Christmas and my birthday are coming up. And my Amazon wishlist is public, in case you feel like looking it up.
So I'm going to go with some classics that I'd really like to see this year. I may come across as clichéd and a bit sappy, but here goes.


An end to slavery. Otherwise known as human trafficking. Although I can't think of a single country on Earth where slavery is legal, there are still plenty of people in captivity; according to World Vision, there are something like 115 million children in the world who are kept in slave conditions. This is unacceptable. There are plenty of charities that work to help victims of human trafficking throughout the world. Find one and donate to it.


Respect for the planet. I'm pretty sure that Donald Trump was trolling when he said on Twitter that the concept of global warming was invented by the Chinese to cripple American manufacturing; I mean, no one could be that deluded, right? But global warming is happening. There are hundreds, if not thousands, of studies which confirm that not only is it real, it's largely human-driven, compared to the tens of studies which say it is not. Yes, there was a major cold spell throughout the country this December, but that was driven by changes in the jet stream, which are driven by global warming. All I'm asking for is a little respect for this planet. We don't have any others to go to. Again, there are plenty of legitimate environmental charities out there that need help.


An end to homelessness and hunger. I work in downtown Sacramento, and I see plenty of homeless people, some of them veterans, every day. I mean, come on, we're the richest country on Earth, and we have this problem? Unacceptable. Find a local food bank or homeless shelter and donate or volunteer. These people need all kinds of assistance, from food and shelter to basic human companionship. I'm appalled that there are political forces in our country that are determined to cut back on government aid to these people. It seems counter-productive.


And, of course, the granddaddy Christmas wish that everyone asks for, world peace. I can't think of any charities that are working specifically on this problem, but it seems to me that the root causes of conflict in the world are lack of resources, and people finding more and more ways to be generally crappy at each other. Find and contribute to charities and groups that are actively working to end human suffering throughout the world, such as Doctors without Borders, or the Red Cross. They do good work.


But really, these wishes aren't really Christmas-specific. They're things I'd like to see year-round. Christmas can bring out the best in people, but I'd like to see that happen every day.
So, then… I don't know. What do you want for Christmas?
'Tis the season for (political) Holidailies